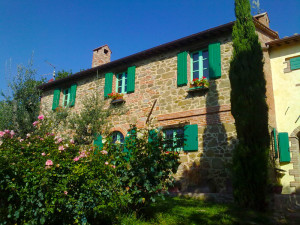 –
PRICES PER DAY from September 2015:
September – June: € 90
July – August: € 140
PRICES PER WEEK from September 2015:
September – June: € 460
July – August: € 850
–
BREAKFAST INCLUDED
We only accept reservations at least two days in advance.
–
Aura House,  overlooking a wide valley surrounded by thick forests stares out towards  Città della Pieve, seen in sharp contrast against the distant skyline. Bright stones and solid walls define two wide facades provided with different entries on each side. A French window  glancing  north under an open loggia and beyond to an attractive floor  paved with red stonework gives access to the first floor, where the large living room, beautifully defined by its terracotta tiles and three great chestnut rafters the length of the entire pitched roof. A few steps among the climbing roses lead to the south side  where the round arches of the second loggia embrace the entrance of the ground floor.  Both levels offer panoramic views, its own fire place, as well as bedrooms and bathrooms such as to meet the requirements of individual families whether large or small.
FOR A MAXIMUM OF 5 PERSONS
–
Apartment surface: approx 190 m2
Ground floor
Main entrance
Covered Loggia with table and chairs
Large Dining Room with traditional fire place
Bathroom with both shower and bathtub
Double Bedroom
Liveable Kitchen with wood stove, wood-fired oven and small fire place
First floor
Main entrance
Liveable external loggia
Large living room with traditional fire place
Bathroom with bathtub
Bedroom 2+1
Double bedroom
–
For information and reservations, please kindly send an e-mail to info@lagiuiaia.com , we will answer you as soon as possible, thank you.
Go to page "How to contact us"
–