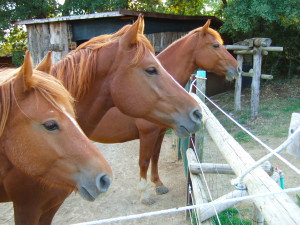 –
Horses and carriages have been an important source of both passion and satisfaction for "La Giuiaia" management since 1996 when we began handling purebred specimens of Franches-Montagnes draught horses. Our animals are being trained to be periodically hitched singly or in pairs to gigs and carriages to offer unforgettable carriage rides along old tracks and medieval villages. On request, different opportunities for excursions are also available: panoramic, historical and faunal courses, but ridden on an ancient means of transport as once did our ancestors, noise and pollution free! "La Giuiaia" intends to unveil the uncommon yet original way of travelling along cart-ways and lanes, absorbed within forests, to the rhythm of hoof beats.
.
The license obtained by the owner was issued by the International Federation FITE TREC–ANTE (Federazione Internazionale Turismo Equestre e Tecniche Ricognizione Equestre Competitive – Associazione Nazionale Turismo Equestre).
.
Transportation by gig can be requested for the celebration of special events like wedding receptions, baptisms, communions  or even just for this special experience that we absolutely recommend.
.
For information and reservations about excursions, please kindly send an e-mail to info@lagiuiaia.com , we will answer you as soon as possible, thank you.
Go to page "How to contact us"
–
– More about horses and gigs –
The area of Canton Giura Swiss region, close to the French border,  gives the name to the Franches–Montagnes race of horse (or Freiberger, for Swiss speaking Germans) bred and culled in Switzerland since the XIX century to have both powerful yet nimble animals. Conceived as soft draught horses, yet suitable for both driving and riding,  this proud race guarantees the best performance in rural jobs as well as in special military corps and enjoying people's esteem also in competitive sport disciplines.
Saignelégier city,  every summer, turns into an important business event for Switzerland revealing the qualities of the Franches–Montagnes specimen outstanding for their tough and resilient fibre (muscles) but also for their well-natured temperament.